Events
Are you organizing a startup/entrepreneurship event or know any happening on Fyn? Add the event here!

European Business Forum – Day 1 – Session 3, 13.30 – 15.00 – New Markets
September 25, 2019 @ 13:30

-

15:00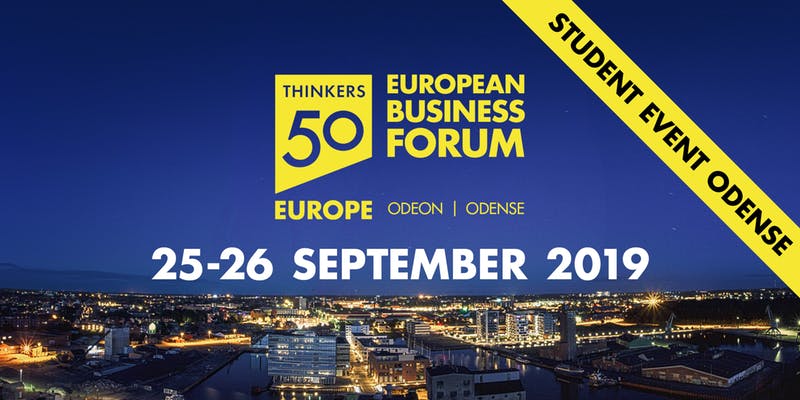 Learning from new markets
Linda Yueh, the economic perspective
Explaining the key thoughts of history's greatest economists.
Linda Yeuh is an adjunct professor of economics at London Business School and has advised the World Bank, European Commission, World Economic Forum, Asian Development Bank and many more.
Linda is also a widely published author. In her latest book, "The Great Economists: How their ideas can help up today", Linda explains the key thoughts of history's greatest economists, how their lives and times affected their ideas, how our lives have been influenced by their work, and how they could help with the policy changes that we face today.
Milo Jones, the intelligence perspective
Teaching Intelligence Tools for the Business Professional.
Dr. Milo Jones is a Warsaw-based consultant and a Visiting Professor at IE (a top FT-ranked business school) in Madrid. At IE, Milo teaches "Intelligence Tools for the Business Professional", advanced strategy courses, and a variety of Geopolitics-related courses in the MBA, Executive Education and the Masters in Advanced Finance programs. Milo also teaches for the Financial Times IE Corporate Learning Alliance, and at CEDEP in Fontainebleau.
Christina Boutrup, the technology perspective
Describing how China will define our future
Christina Boutrup is a leading China analyst and former correspondent. She interviewed Alibaba's founder Jack Ma and closely followed the global expansion of Chinese companies authoring several books about business in China. In her most recent book "The Great Tech-revolution – How China Shapes our Future", she underscores why all decision makers should pay attention to the Chinese tech-revolution and what companies in the West can learn from China.
Tendayi Viki, the entrepreneur perspective
Helping companies innovate for the future while running their core business.
Tendayi Viki is an author and innovation consultant, who helps large organizations develop their ecosystems so that they can innovate for the future while managing their core business. He is Associate Partner at Strategyzer, and has given keynotes, run workshops and worked as a consultant for several large organizations including Rabobank, American Express, Unilever and Airbus.
________________________________________________
KUN FOR STUDERENDE – HUSK GYLDIGT STUDIEKORT
Dørene lukker 10 minutter før start – kom i god tid
ONLY FOR STUDENTS – BRING VALID STUDENT ID
Doors closing 10 minutes before it starts – be sure to come early
Odeon
1 Odeons Kvarter
5000 Odense