Events
Are you organizing a startup/entrepreneurship event or know any happening on Fyn? Add the event here!

European Business Forum – Day 2 -Session 1, 9-10.30 – Rethinking Leadership
September 26, 2019 @ 09:00

-

10:30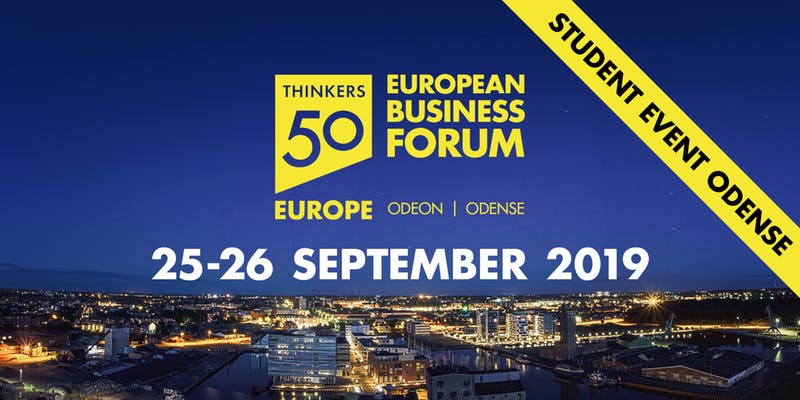 Rethinking leadership
Jean-Francois Manzoni, leading the future
Helping executives become their best self by closing the knowing-doing gap
Jean-François Manzoni is Nestlé Professor at IMD, where he also serves as President. His main areas of focus are leadership, the development of high performance organizations and corporate governance. The recipient of several awards for teaching excellence, he also received numerous awards for his research and case writing activities, including for his seminal book "The set-up-to-fail syndrome: How good managers cause great people to fail" (with Jean-Louis Barsoux).
Rasmus Hougaard, leading through mindfulness
Helping leaders enhance performance through mindfulness.
Inspired by Asian traditions for mindfulness, Rasmus is a world-leading expert on the mental side of leadership. He has helped thousands of global leaders and organizations enhance performance, innovation and resilience through mindfulness and other practices grounded in neuroscience and research.
Rasmus writes for Harvard Business Review and Forbes and lectures at the world's leading business and executive education schools like IMD, Roman and IESE.
Erica Dhawan, leading through connectedness
Thinkers50 has named Erica Dhawan "The Oprah of Management Ideas". She is the world's leading authority on Connectional Intelligence and the Founder & CEO of Cotential, a company which inspires companies to break silos and work smarter.
Through speaking, training and consulting, Erica teaches business leaders innovative strategies that increase value for clients, deliver results and ensure competitiveness. She is the co-author of the bestselling book Get Big Things Done, and one of the emerging management thinkers most likely to shape the future of business.
Erica speaks on global stages such as the World Economic Forum at Davos, and she looks forward to inspire you at this year's Thinkers50 European Business Forum in Odense.
_________________________________________________
KUN FOR STUDERENDE – HUSK GYLDIGT STUDIEKORT
Dørene lukker 10 minutter før start – kom i god tid
ONLY FOR STUDENTS – BRING VALID STUDENT ID
Doors closing 10 minutes before it starts – be sure to come early
Odeon
1 Odeons Kvarter
5000 Odense