Events
Are you organizing a startup/entrepreneurship event or know any happening on Fyn? Add the event here!

European Business Forum – Day 2 -Session 3, 13.30-15- Rethinking innovation
September 26, 2019 @ 13:30

-

15:00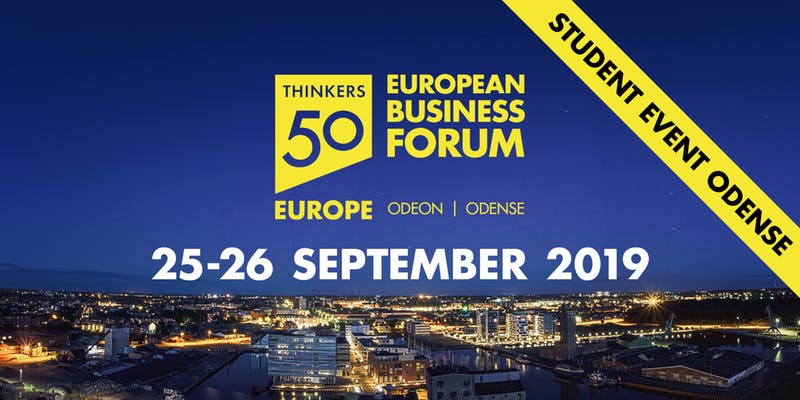 Scott Anthony, Innovation with Dual Impact
How to leverage disruptive change and create tomorrow's growth engine.
Innosight, where Scott D. Anthony is a Senior Partner, is a management consulting firm advising enterprises on business strategy. Based in the firm's Singapore offices since 2010, Scott has led Innosight's expansion into the Asia-Pacific region and advised senior leaders in companies such as Procter & Gamble and General Electric, on topics of growth and innovation.
In 2017, Scott was awarded the Thinkers50 Innovation Award, which recognizes the world's leading thinker on innovation. Scott is one of Harvard Business Review's most prolific contributors and is the coauthor of the book Dual Transformation: How to Reposition Today's Business While Creating the Future (April 2017), a blueprint for how successful companies can leverage disruptive change to fortify today's business and create tomorrow's growth engine.
Howard Yu, Innovation with a Leap Forwards
Teaching business to shield itself from copycat competition.
Howard YU is a professor of management and innovation at IMD and author of the bestseller "Leap: How to thrive in a world where everything can be copied". In his book, Howard shows that succeeding in today's marketplace is no longer just a matter of mastering copycat tactics, companies also need to leap across knowledge disciplines, and to reimagine how a product is made or a service is delivered. This proven tactic can protect a company from being overtaken by new (and often foreign) copycat competitors.
Howard has delivered customized training programs for leading organizations including Maersk, Daimler, and Electrolux. His articles have appeared in Forbes, Fortune, Harvard Business Review, The Financial Times, and The New York Times.
Howard Yu will join the Thinkers50 European Business Forum to explain how pioneering companies can endure and prosper in a world of constant change and inevitable copycats.
________________________________________________
KUN FOR STUDERENDE – HUSK GYLDIGT STUDIEKORT
Dørene lukker 10 minutter før start – kom i god tid
ONLY FOR STUDENTS – BRING VALID STUDENT ID
Doors closing 10 minutes before it starts – be sure to come early
Odeon
1 Odeons Kvarter
5000 Odense