Events
Are you organizing a startup/entrepreneurship event or know any happening on Fyn? Add the event here!

Startup Odense Community Meetup Special Edition: Host – Odense Renovation
September 26, 2019 @ 16:00

-

18:00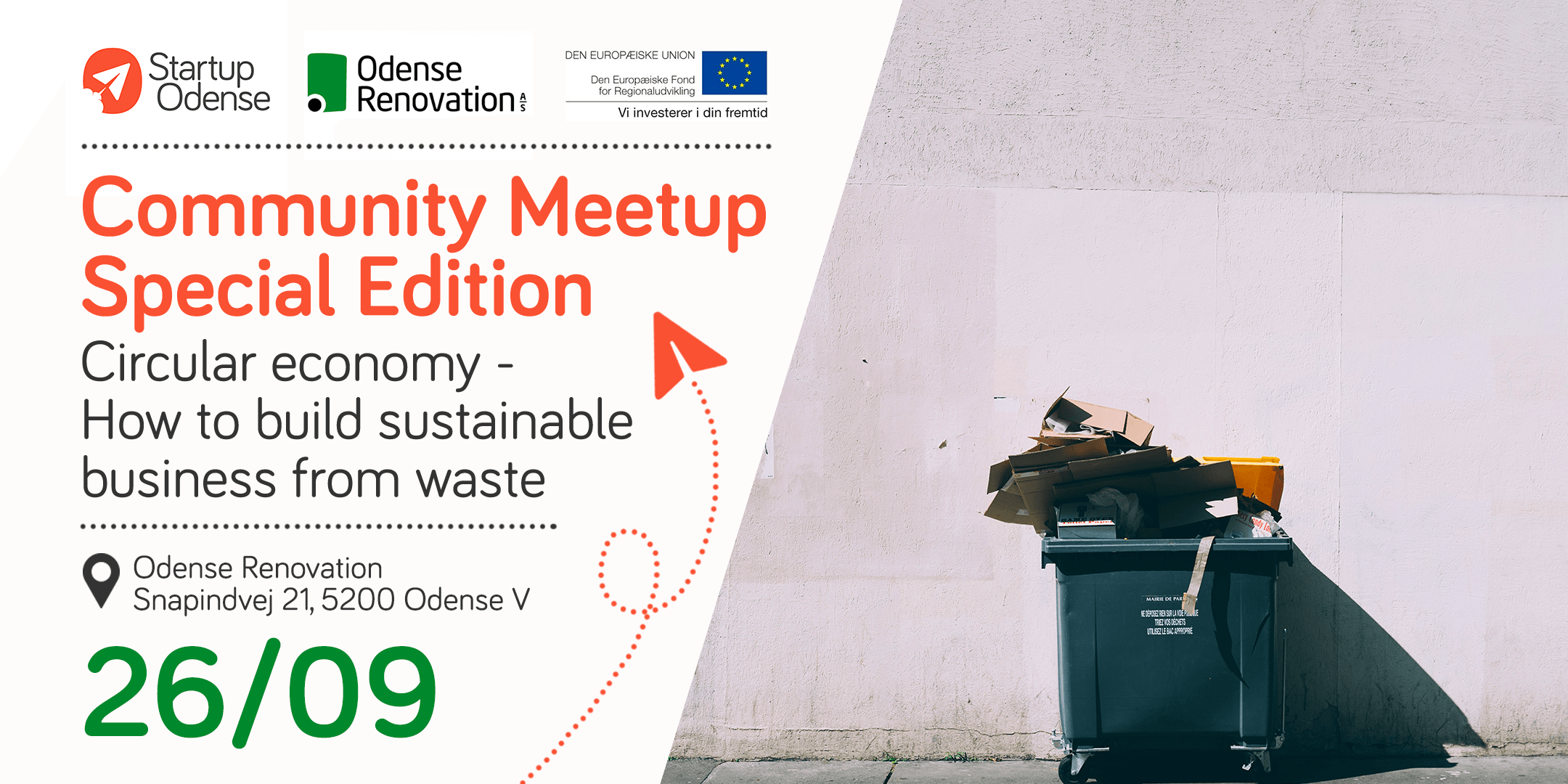 Circular economy – How to build a sustainable business from waste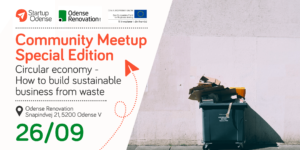 Want to create your own circular and sustainable business project – and maybe even get the chance to get it funded?
Startup Odense and Odense Renovation A/S invite you to participate in an inspiring workshop and networking event with like-minded entrepreneurial people from the entire startup ecosystem – and start your weekend off in the greatest way.
Circular economy and sustainability are on everyone's lips at the moment, including the need to reduce waste and reuse more. If you take an interest into such themes this is just the event for you. The special edition meetup will take place in the context of an EU funded project, "Circular in Odense" that aims to develop innovative waste solutions to support circular economy.The event will feature some of the startups that are already partners in the project, who will provide an insight into developing circular and sustainable products and concepts – from identifying the purpose and business idea, to the pitfalls and carrying through despite it all.
Afterwards we will facilitate a workshop that intends to inspire to new circular and sustainable business ideas that can help reduce and reuse waste. Is it for example possible to make business from a broken blender? Or turn torn textiles into something useful? If you come up with something good, there's a chance to apply to become part of the project and receive funds for developing your idea further.
So come on and join us for this special event to learn about starting up a circular and sustainable business. And who knows? Your idea might be the next to be funded by 'Circular in Odense'.
▶ WHAT?
16.00: Check-in and welcoming speech
16.10: Introduction to the project – "Circular in Odense"
16.15: Project partner, Re-Circle – "Why waste perfectly good electronics?"
16.30: Project partner, Pop Up Shop – "Sustainable sportswear and plastics waste"
16.45: Workshop: "Put waste to good use"
17.15: Get to pitch your circular and sustainable business idea to a panel of business developers
17.30: Networking
▶ WHEN?
Thursday the 26th September 2019 at 16:00 – 18.00
▶ WHERE?
Odense Renovation, Snapindvej 21, 5200 Odense V
▶ WHO?
Startups, want2be entrepreneurs, creative thinkers, innovators, investors, service providers – anyone who wants to enhance the startup community in Odense is warmly welcome.
▶ HOW?
There are limited spots for the workshop, so sign up using the Eventbrite link, if you want to participate.
Find all our networking events here: https://www.facebook.com/startupodense/events
Read more about the project, Circular in Odense, here:https://www.odenserenovation.dk/projekter/cirkulaer-i-odense-eu-projekt/ (Description in Danish – feel free to contact Odense Renovation with questions)